Bright Eyes nursery inquiry: Six bailed again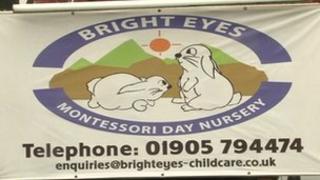 Six men arrested following reports a child was sexually assaulted at a Worcestershire nursery have been bailed again until next month.
Last month a child complained of being attacked at one of three branches of Bright Eyes nurseries.
Ofsted has since closed the Bromsgrove, Redditch and Droitwich nurseries while investigations continue.
The men were arrested on 23 May and answered bail on Thursday.
They were ordered to attend police stations again on 11 July.
Police previously said there had been incomplete parent contact details at the nurseries, a matter which the Information Commissioner is investigating.
Officers said they had now been able to get in touch with the "majority of parents" who had children at the three nurseries.
However, they urged anyone who had not yet spoken to them to contact officers.
Det Insp James Hawkins said officers from West Mercia Police were working with Ofsted, local councils and the Worcestershire Safeguarding Children Board over the issue.