Worcester City FC sells 100 sq m of St George's Lane pitch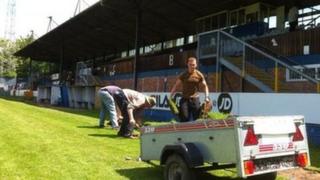 Fans of Worcester City FC have bought 100 sq m (1,076 sq ft) of the pitch at its former stadium.
The club, which has moved out of St George's Lane after 108 years, offered people the chance to buy a piece of the turf for £5, on Saturday.
The Conference North club is set to play at Kidderminster next season and recently scrapped plans to move to a new ground at Nunnery Way.
Seats and signs from St George's Lane were also offered for sale.
City director Mike Davis said lots of people came, mainly just for one piece of the turf, "happily carrying it away either in bags, in wheelbarrows, in their hands".
He added: "It was quite a happy day in many ways because people seemed to enjoy it. It was good fun. There was a good feeling there."
The club scrapped plans to move to Nunnery Way after being released from its contract with developer St Modwen.