Worcestershire fire leads to fish deaths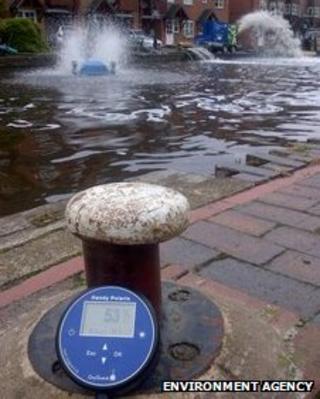 About 200 fish have died after water used to tackle a major fire in Worcestershire ran back into a canal.
Pumps are being used to raise oxygen levels in the Staffordshire and Worcestershire canal near the scene of the fire at Lawrence Recycling in Kidderminster.
The Environment Agency (EA) said oxygen levels fell to 1% after "organic material" was washed into the canal.
Chris Bainger, from the EA, said it would be at the scene "for some days".
"What's happened is, that the water that's been used to put out the fire has come back into the canal and that's brought in a lot of organic material with it," he said.
"When that's got into the water it breaks down and uses oxygen and that's depletes the levels very quickly."
Three hundred live fish have also been moved out of the canal, the EA said.
Levels back up
Up to 80 firefighters fought the blaze on the industrial estate, which broke out on Sunday.
Crews used water from the canal to tackle the fire in a building used to store paper and plastics before they are processed for recycling.
At one point, the huge column of smoke thrown up by the blaze could be seen up to 30 miles away, according to some residents in the West Midlands.
Fire crews are still at the scene and the cause is being investigated.
The Canal and Rivers Trust also has pumps and aerators working in the area.
Oxygen levels are now back up to 58%, according to the EA.
Mr Bainger said the loss of 200 fish "isn't bad" as there were "tens of thousands" in the canal.