Anti-war protester Brian Haw musical to get London premiere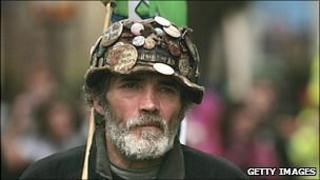 A musical telling the story of anti-war campaigner Brian Haw is to be premiered in London in August.
Mr Haw, of Redditch, Worcestershire, set up camp in London's Parliament Square in 2001 in protest against UK and US foreign policy. He died in 2011.
The musical, According to Brian Haw, has been devised by the Youth Music Theatre and Mr Haw's son, Pete, who said he had "big hopes for the show".
It will open at the Riverside Studios in Hammersmith on 20 August.
Pete Haw said: "When I came to the workshop last year I was delighted to find out how in-depth and how thoughtful the music and words were.
"Part of our family's job is safeguarding dad's legacy, and I have big hopes for the show".
Mr Haw set up camp in Parliament Square Gardens on 2 June 2001, in response to sanctions against Iraq.
His protest increased after the invasions of Afghanistan and Iraq.
In March 2011 , after a long battle with the authorities to keep his camp, Mr Haw was evicted after Mayor of London Boris Johnson won a possession order.
He died from lung cancer in hospital in Germany, three months later.