Sealine workers encouraged to seek compensation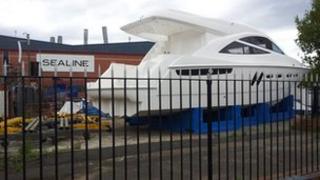 Former workers of a Kidderminster-based luxury yachting manufacturer are being encouraged to find out if they are entitled to financial compensation.
Sealine employed about 300 people, went into administration at the end of April.
The Community Union said 70 employees have filed tribunal paperwork because of the way the company was closed.
But Gavin Miller from the union said over 200 workers "have strong merits" for a claim.
An industrial tribunal will decide if the workers were properly consulted when they were made redundant.
In May, the union said workers could get compensation from the government.
The administrator, Baker Tilly Restructuring and Recovery LLP, said it will assist staff "to make claims against the government redundancy fund".