Bright Eyes nursery inquiry: Man re-arrested over second sex assault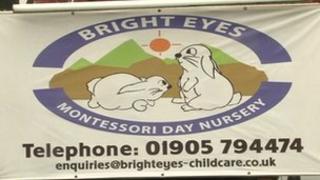 A man has been re-arrested over sexual assault allegations against a second child at a Worcestershire nursery.
Six men were arrested in May following reports a child was sexually assaulted at a branch of Bright Eyes Nurseries.
Four men answered bail on Thursday and one was re-arrested on suspicion of an additional sexual offence against a different child, police said.
The others were re-bailed pending further enquiries. No further action is being taken against the remaining two.
The investigation was prompted by the mother of a child who attends the nursery reporting an incident.
The nurseries, in Bromsgrove, Redditch and Droitwich, closed voluntarily following the allegations and have been searched by officers.
Ofsted has since suspended the nurseries' registration while the investigation continues.
Det Insp James Hopkins said parents had been made aware of this latest development in the investigation.
"I would like to reassure people that a team of dedicated detectives are continuing to investigate all matters relating to this enquiry," he said.