Gullet Quarry death: Tribute to Russell O'Neill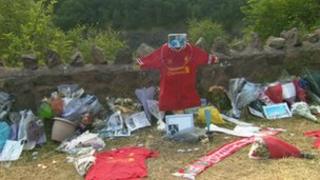 Family and friends of a teenage boy who died while swimming in a lake are set to pay a candlelit tribute to him.
Candles will be floated on the water at Gullet Quarry in Worcestershire where Russell O'Neill, 17, died on Saturday.
The family also hope to raise money for signs and fencing at the quarry to prevent similar accidents happening.
In a separate incident, a boy had to be rescued from the River Avon near Evesham after he got tangled in fishing nets on Thursday.
The boy got into difficulties near Blind Lane at about 19:00 BST.
A West Midlands Ambulance Service spokesman said: "The teenager was extremely fortunate to be pulled to safety after he got entangled in fishing nets.
"The patient was assessed at the scene and later taken to Worcester Hospital for further assessment and treatment.
"I would strongly urge members of the public to heed our warnings about swimming in rivers, lakes and quarries during the current heatwave as it is extremely dangerous and can end in tragedy."
The tribute to Russell is due to take place at 21:00 BST.