Deaths of two swimmers prompts closure of Gullet Quarry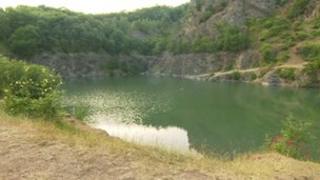 A quarry where two people have died in the space of week has been closed to the public.
On Friday police recovered the body of an unnamed man believed to be in his 20s who had got into trouble while swimming at Gullet Quarry near Ledbury, Herefordshire.
Russell O'Neill, 17, died last Saturday swimming at the same site.
The Malvern Hills Conservators said members would be working with police to stop people entering the area.
A spokesperson from the group, which looks after the hills, said: "Following consultation with West Mercia Police, we have closed access to Gullet Quarry over this weekend in order to prevent any further tragic accidents.
"Anyone attempting to enter the quarry will be turned away and we appeal to people not to try to enter the quarry."
He added that the conservators sent their "deepest sympathies" to the families of the two young men who lost their lives.