Worcester's Guildhall gets wedding licence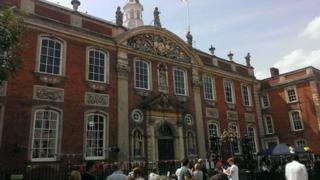 People are able to get married or have their children christened at an 18th Century council building in Worcester for the first time.
The Guildhall has been licensed to conduct wedding ceremonies, civil partnerships and naming ceremonies.
The building dates back to 1721 and its reception room can accommodate up to 200 guests, the city council said.
The Guildhall was designed by Thomas White, a local architect who was a pupil of Sir Christopher Wren.