Man named after second Gullet Quarry death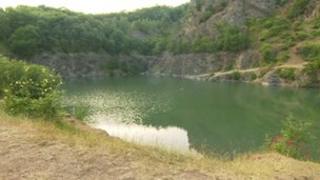 The second of two swimmers who died in a week at a disused quarry has been named by police.
Justas Juzenas, 22, died on Friday evening after getting into trouble while swimming at Gullet Quarry near Malvern, Worcestershire.
The Lithuanian national, of Three Crosses Road, Ross-on-Wye, Herefordshire, was confirmed dead at the scene by paramedics.
Russell O'Neill, 17, died on 6 July swimming at the same site.
Access to the quarry has been reopened to the public.
The Malvern Hills Conservators are putting up signs warning swimming there is "dangerous and illegal".
The conservators, who look after the hills, blocked the access route to the quarry over the weekend "to prevent any further tragic accidents".
Director Stephen Bound said the group would continue to seek advice about how to make the quarry safe.
"We have the Royal Society for the Prevention of Accidents water safety team coming to give us some advice and letting us know if there is anything else we could be doing to protect people," he added.