West Mercia police stations 'to be replaced and closed'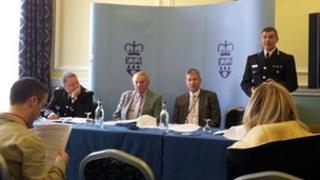 Twenty-three police stations are to close across the West Mercia force area.
Fifteen will relocate to community buildings and eight will shut completely.
The move is part of a major restructure by the force, which it says will save about £1.5m.
Two stations in Shropshire will close without being replaced. All changes will come into effect by March 2015, police said.
West Mercia Police and Crime Commissioner, Bill Longmore, said: "These plans, including the closure of eight police buildings, are due to save £1.5m.
"This is the equivalent of keeping 30 Police Constables or 51 PCSOs on the beat." It is unclear how many jobs will be affected by the changes.
Ironbridge and Donnington Mill stations in Shropshire will close and the areas will be served by existing stations at Madeley and Donnington.
But Redditch's Crabbs Cross and Kingfisher Centre stations will also close, along with Kidderminster's Comberton station. The WMAS base in Bromsgrove, Guildhall in Worcester and Warndon's station will also close and not be replaced.
"We have chosen these eight as we believe we can deliver policing services from nearby police bases without any detriment to the public - the feedback from local people and partners has been really useful" Mr Longmore added.
Albrighton, Ellesmere, Bromsgrove and Stourport will retain their stations but their new locations are undecided.
Ludlow and Whitchurch will remain, "but their future locations remain under review," said Mr Longmore.
He said that no buildings will close until a replacement location is found.
Chief Constable David Shaw said the force could "no longer afford to maintain so many buildings."
The force has been told by the government to find more than £20m in savings by 2015.