Kidderminster recycling plant fire 'to cost £250K'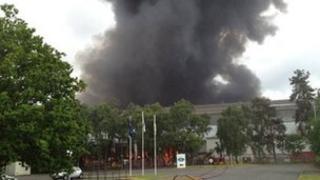 The final act to extinguish a fire that has burned for a month at a recycling plant is to cost taxpayers £250,000.
At its height up to 80 firefighters fought the blaze at Lawrence Recycling in Kidderminster.
Wyre Forest District Council said two fire-damaged bays at the site will be demolished in order for fire crews to douse the burning material.
Worcestershire County Council and the Environment Agency will help meet the costs because the firm cannot.
Ian Miller, chief executive of the district council, said: "The recent hot weather, changes to water levels and temperatures resulted in different conditions for the agencies to consider.
"Coupled with information that the fire was likely to burn for longer than first estimated, we have taken decisive action to bring it to an end more quickly."
He added the cost of the operation so far was "at least £100,000" but would not specify the exact amount.
Low health risk
People living near the site have been advised to continue to stay away from smoke coming from the site.
Public Health England has confirmed the health risks of the smoke are low, according to the council.
Last month about 200 fish died after water used to tackle the fire ran back into the nearby Staffordshire and Worcestershire canal.
Plans to finally extinguish the fire have begun, with unburned waste being removed from the main building at the site and taken to landfill to create space for burning waste to be moved.
Fire crews will douse any burning plastic and paper, with the run off water being captured and taken away by the Environment Agency.
The council said it is expected the fire will be out next week once the two fire-damaged bays are demolished on Monday.