Worcester abandoned baby Joseph left on childminder's doorstep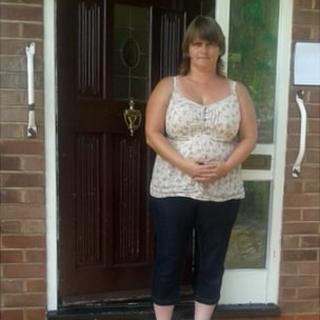 A woman who found an abandoned baby boy on her doorstep said whoever left him there must have known she was a childminder.
Adrienne Hunt, 43, of Columbia Drive, Lower Wick, Worcester found the newborn child - who has since been named Joseph - just after 04:00 BST on Thursday.
"Whoever left him here is somebody who knows I look after children - I've been looking after under eight-year-olds since 2003," she said.
"It's like a warren to get to our house so they knew who we were and what we do - I take it as a compliment."
Mrs Hunt described the experience as like a "bizarre dream".
"I'd fallen asleep on the sofa and there was a long ring on the doorbell sometime after four," she said.
"I took the chain off and saw a bag on the step, I was a bit confused but opened it up and realised there was an infant inside."
She said she called outside to see who had left him there but there was no reply.
"First of all we made sure he was ok as he wasn't making a lot of noise, just gurgling," said Mrs Hunt.
"He was very clean but had no nappy on so we put a cloth nappy on him."
'Needs his mum'
Mrs Hunt said Joseph's mother had cut the umbilical cord.
"It wasn't bleeding or anything, the cord didn't have a clamp but it was dealt with as well as you could expect.
"My husband and I then called the police who took him to the hospital."
Mrs Hunt said she had been to visit Joseph in the hospital.
"I'd love to look after him myself but don't think that's an option - he needs his mum," she added.
Staff at the Worcestershire Royal Hospital have named the baby Joseph, although Mrs Hunt said she and her husband John had named him Jack before handing him over to police.
"He's beautiful and I think his mother's done a good job, but she needs to come forward," she said.
"I feel a duty of care towards him so I will ring (the hospital) to see how he is but the main thing is he's ok.
"I'll deal with the emotions later - right now it's been bizarre."