River Arrow rescue: Police praise 'brilliant' reactions of locals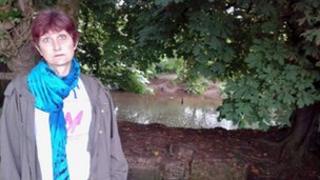 The "brilliant reaction" of people who rescued two children from a river has been praised by police.
A six-year-old girl and her 11-year-old brother got into difficulty in the River Arrow near Redditch, at about 12:30 BST on Wednesday.
They were pulled out by passing dog walkers. The girl remains at Birmingham Children's Hospital and police say the boy is now back home.
Det Insp Vikki Reay said the outcome could have been very different.
The children, who both suffered from hypothermia, have not yet been named. Police said the boy jumped in to try and save his sister.
Janie Greville, from Redditch, who helped rescue the children, was walking her dog by the river with her partner Mike, when they heard teenagers shouting for help.
They both jumped in and swam to the children. Another man, who had been fishing nearby, helped pulled the girl from the "very deep" water, she said.
"It was a three-man job and I'm so grateful we happened to be passing at that moment and I had the honour to help," said Ms Greville.
"I haven't actually had a chance to have an emotional response, but I couldn't sleep last night.
"I don't know the family but I would like to meet their mum and see that the children are safe and well."
'No safe place'
Ms Reay, of West Mercia Police, said: "We're investigating the circumstances around what happened - that spot is well known for children playing.
"However, there's been a lot of press about the risks around swimming in open water and at the moment there are no safe places to swim unless it's in a supervised pool.
"It was the brilliant reaction of local people that averted what could have been quite a different outcome."
She added it was "almost impossible to consider fencing and signage" at every open waterway but more needed to be done to warn the general public.
Calls for signs
District councillor Rebecca Blake said "prompt and meaningful action" needed to be taken.
"We realise you can't make open water completely safe but there is maybe more we can do - like signs and maybe cutting back some of the trees," she said.
"We need to make sure we don't have any more of this in the future."
Ms Grenville said the riverside area was like a "beautiful secret garden".
"You're never going to stop children taking risks but we need adults to safeguard [the area] and keep them safe."