Charity ferry staff in Worcester threaten to quit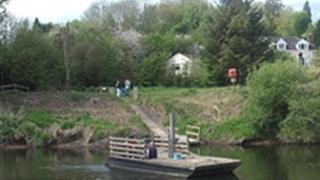 Fundraisers who have operated a ferry on the River Severn for 30 years say they will scrap the service if plans to raise licence fees go ahead.
The Canal and Rivers Trust (CRT) is reviewing the cost of its business boat licences.
The Worcester Cathedral Ferry (WCF), which raises money for charities, could end up paying £600 per year instead of its current £150.
Volunteers say an increase would "force us off the water for good."
Mark Glossop, who owns the ferry, said: "We simply could not afford to continue and will scrap the service if the fees are raised.
"A rise would force us off the water for good - we are a charity, charging people 30p a ride and we simply cannot afford it."
'It is unfair'
Under new licence plans their "rowboat ferry" would be classed as a skippered passenger boat.
"That is lumping us in with those huge 250-seater boats that go along the river," Mr Glossop said.
"We can fit eleven people in our rowboat. That is hardly the same as those huge boats and it is unfair."
Over the last 30 years WCF has raised more than £13,000 for charities in Worcester.
A spokesman for the CRT confirmed the new system could be in place by summer 2014, and that the concerns of the WCF crew "would be taken into consideration".
The ferry, which operates during summer, takes tourists from the cathedral's Watergate to Chapter Meadows, near the county cricket ground.