Russell O'Neill death: Facebook bid to close quarry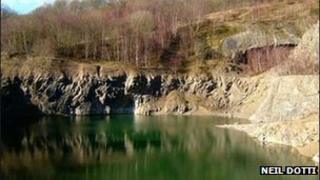 More than 2,000 people have backed a campaign calling for closure of a Worcestershire quarry where two young men died in the space of a week.
Russell O'Neill died on 6 July at Gullet Quarry, near Malvern. A second man, Justas Juzenas, 22, died on 12 July at the same site.
A page has been set up on Facebook by the 17-year-old's brother who wants the water to be closed off to swimmers.
A candlelit vigil for Russell was held at the quarry last month.
His family has previously called for websites listing open water swimming locations to make clear the dangers.
The Malvern Hills Conservators, who look after the hills, have said they are putting up signs warning swimming there is "dangerous and illegal".
The group also blocked the access route to the quarry last month.
A water safety team from the Royal Society for the Prevention of Accidents are also to advise the conservators on what can be done to protect people.