Hereford's £3m River Wye bridge close to completion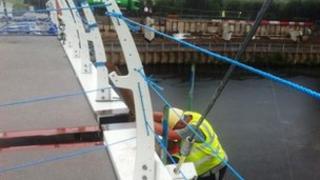 The final sections of a £3m bridge over the River Wye in Hereford have been put into place.
A crane was used to lower the two sections into position just after 11:00 BST.
Workers will now turn their attention towards securing the structure and then to the approaches either side.
The foot and cycle bridge forms part of the three-mile (5km) Greenway, linking the city centre to the Rotherwas Industrial Estate.
It will be almost 100m (328ft) long and should open in October.
The project has been funded by Herefordshire Council and £350,000 of lottery money from transport charity Sustrans.
A Herefordshire Council spokeswoman said: "The ropes that will hold the construction in place need to be secured and then some welding needs to be done.
"It's a case of making sure it's all secure.
"It might look complete to the naked eye but there's still some background work to do."