Brintons Carpets invests £5m in expansion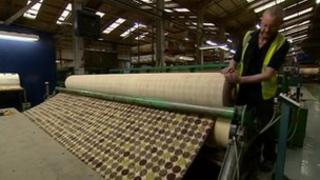 A carpet manufacturer is to invest £5m improving technology at its factories in Kidderminster and Portugal.
Brintons Carpets, based in Worcestershire, said 10 looms would be upgraded to enable it to produce high-definition weave carpets.
The firm invested £3m in March in four looms at its base in Kidderminster.
It said that some of the £5m would also be used to take on seven apprentices at its factories in Kidderminster and Telford.
Last year, the firm cut about 100 jobs at the two plants and also closed operations in China.
Managing director Don Coates said: "We have been driving sales in markets in growing markets such as the US... but we had to downsize to get things moving.
"There has been some pain for people in the business but we're in the happy position of being able to now gradually add to our workforce and expand our business."