Evesham's Abbey Bridge replacement to start in September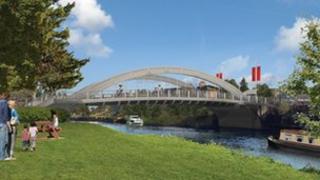 An £8m scheme to replace a Worcestershire bridge will start in September, the county council has said.
Abbey Bridge in Evesham is in poor condition and currently has a 7.5 tonne weight restriction.
The council said it would be closed to vehicles for 10 weeks from 19 September.
During the works, Mill Street will temporarily become a two-way street and Mill Bank will be closed at its junction with Common Road, it said.
The Evesham Commerce and Tourism Association has previously said it was concerned about the impact the bridge closure would have on businesses.
The county council said it had devised a package of measures to try to minimise the effect on local firms.
They include improving signage around the area, reducing car parking charges and a introducing a loyalty card designed to boost trade in the town.
The Department of Transport is paying £5.59m towards the cost with the rest coming from the county council.