Worcester Royal hospital investigates 'wrong gas' death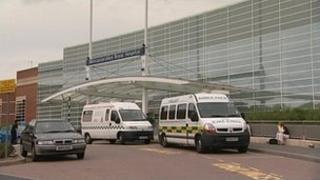 A patient has died after being given what was thought to be the wrong gas while being treated at the Worcestershire Royal Hospital.
The hospital trust said it had started an investigation and it was not yet known if the alleged error had resulted directly in the patient's death.
It said it could not release detailed information about the incident while the investigation was ongoing.
Details of the death have been passed to the Worcestershire coroner, it said.
Chief medical officer Mark Wake said the trust was "reflecting on all the circumstances and evidence available".
He said results of any investigation into the so-called never event would be given to the family and published externally at a later date.
He said: "In the rare and regrettable instances where they [never events] do occur, an investigation is immediately undertaken to find the root causes, develop solutions for and then implement them where the incident occurred and more widely if required.
"This helps to reduce the likelihood of a similar incident re-occurring."
Incidents that are categorised as never events by the Department of Health are those which are so serious they should never happen.