Man's daughter's ashes stolen in Kidderminster burglary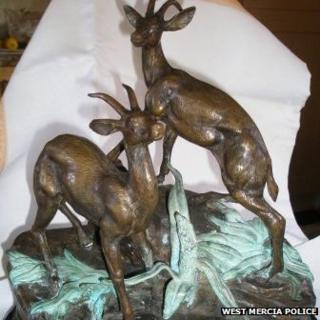 Burglars have stolen the ashes of a woman who died three years ago in a break-in at her father's home.
A bronze sculpture worth £500 and a Boer War medal were also taken during the burglary in Kidderminster.
"The victim is particularly distressed about the theft of what is left of his daughter's ashes," police said.
"They are of huge importance and sentimental value to him but worthless to anyone else, and he would very much like them back."
The ashes were kept in a tall sweet jar-type container, which was in a red velvet bag, police said.
The thieves broke into the property in Chester Road North, at the junction with Villiers Street, via French doors.
They also took the Boer War medal, which was silver with an orange and red ribbon and three silver bars, and valued at £500, and a silver Victorian watch with a chain, valued at £200.
Police said the burglars also stole rings, two drills, seven bottles of spirits and a carrier bag containing £35 of loose change.
The burglary is thought to have happened between 09:30 and 16:50 BST last Thursday. Police want any witnesses to contact them.