Campaigners 'in shock' as Hereford Lime trees axed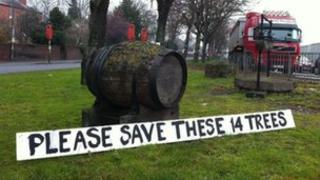 Lime trees at the centre of a protection row in Hereford have been cut down.
In total 10 of the 14 European Limes that lined Edgar Street have been cut down by the Highways Agency.
Police attended the scene to ensure safety, and temporarily closed the street while the work took place.
One protester, who was part of a group that had spent several months trying to halt the action, said he was "shocked" at the move.
Neil Jeffery, one of a number of nearby residents who believed the trees provided a screen and also improved air quality, said: "We did not know this would happen overnight.
"We had hoped to have further talks before action was taken."
The council said the trees were cut down at 07:00 BST.
A spokesman for the Highways Agency, which removed the trees to add an extra lane to a roundabout, said its work with the council would include planting replacement trees.