Worcestershire World War I project receives funding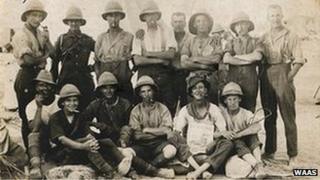 The impact of World War I in Worcestershire will be examined in detail, following a grant by the Heritage Lottery Fund.
More than £350,000 will be used to develop exhibitions at venues across the county, the Worcestershire Archive and Archaeology Service (WAAS) said.
A series of projects are planned commemorating the centenary of the breakout of war in 1914.
It is planned the displays will tell "personal stories from real people."
Worcestershire County Council will work with the university, cathedral, Avoncroft Museum, the George Marshall Medical Museum and Worcester's Tudor House to collect a people's archive of material.
'Meaningful and appropriate'
A spokesman for WAAS said: "From stories of soldiers and their families, the impact of the conflict on healthcare in the county, to the role of local women on the home front, the project will give the people of present day Worcestershire the chance to learn about the technological, social, economic, political and medical developments in a time of trauma and crisis that still have influence on our lives now."
Themed exhibitions are planned at a variety of county-wide venues on subjects such as the battles of Gheluvelt, Neuve Chappelle and the Somme.
Lord Faulkner of Worcester, chairman of the All Party Parliamentary War Heritage Group, and member of the government's World War I Centenary Advisory Board, said the announcement was "terrific news".
He said: "This is... a marvellous compliment to all the Worcestershire-based organisations and individuals who have worked so hard to ensure that all of us in the county are able to commemorate the events of 1914-18 in meaningful and appropriate ways."
Reyahn King, head of the Heritage Lottery Fund for the West Midlands, said: "The First World War changed the face of modern history touching the lives of everyone in this country.
"[The project] will capture the memories of individual soldiers, regiments or families to learn more about how this period in our history changed the future of Worcester and beyond. "