PC Jordan Powell sacked after sex text jail sentence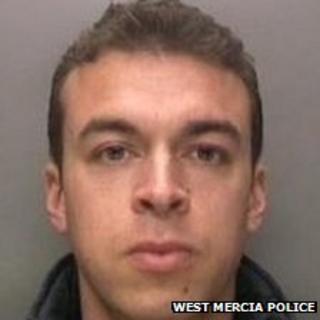 A West Mercia police officer jailed for sending sexual texts to female victims of crime has been sacked by the force.
PC Jordan Powell, 31, who admitted misconduct in a public office, also illicitly met a victim of domestic abuse while he was on duty.
Deputy Chief Constable Simon Chesterman said: "Incidents of this nature have the potential to seriously damage the trust placed in us."
Powell from Tipton, West Midlands, was jailed for 15 months in September.
Gloucester Crown Court heard how he was caught when an undercover female officer posed as a victim of crime.
Mr Chesterman said the case should act as a reminder to all officers and staff of the importance of "maintaining professional boundaries at work".
Powell joined West Mercia Police in October 2004 and received a written warning in 2008 for an inappropriate relationship with a female victim of crime.
He was arrested and suspended from West Mercia Police in July 2012.