Residents call for inquiry into Bromsgrove 'huge earth pimple'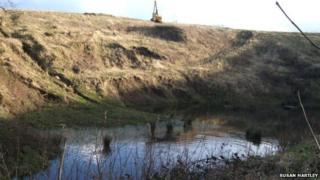 Residents are calling for an inquiry after 1.5 million cubic metres of earth was dumped on a site in Bromsgrove without permission.
The owner of Marlbrook tip was allowed to lay 500,000 cubic metres of soil for a golf course in 2005.
However, a survey by Bromsgrove District Council in 2011 found around three times that amount of soil on the former tip.
Residents said it looked like a "huge pimple" on the landscape.
The council said it was "evaluating the benefits" of a public inquiry.
The owners of the site, Liberty Construction, did not respond to a request for a comment.
'A huge pimple'
Susan Hartley is among the residents calling for an inquiry.
"We are not looking for a witch-hunt but we want people to learn lessons," she said.
"The council never supervised what was going on at the tip.
"The tip is behind my house and I lived with the trucks rolling past my house and I saw the mound getting bigger and bigger. We complained but the council refused to listen."
She said they had been "left with a very strange bump on the site - it looks like a huge pimple".
She added: "It blocks the view - it's horrendous."
At a meeting on Wednesday, the Conservative-run council agreed to establish a cross-party working group to "evaluate options", including the benefits of a public inquiry.
Councillor Kit Taylor, the cabinet member in charge of planning, said: "The trouble is we trusted the owner to regulate what was going on.
Mr Taylor said the council had proved "incompetent" on the issue but said: "If there is a public inquiry, it would be absolutely toothless and it wouldn't help us gain control of what is happening on the site now. It would achieve absolutely nothing."
However, Labour councillor Luke Mallett said: "The public inquiry would bring somebody outside the issue to look at the rights and wrongs and, more importantly, the lessons this council can learn from its failure and how we can prevent it happening again."