Elgar's little-known 'music therapy' pieces from asylum released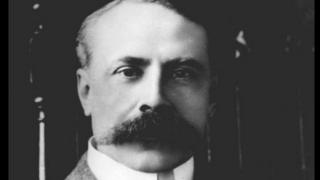 Little-known pieces by the composer Edward Elgar have been recorded for the first time.
The new album, called Music for Powick Asylum, is made up of recordings of some of the pieces Elgar composed in his early years, as bandmaster of the Worcester County and City Lunatic Asylum.
The album was launched at the Elgar Birthplace Museum.
Musician Richard Jenkinson said the work was "music therapy" for patients.
Mr Jenkinson, the principal cellist with the Innovation Chamber Ensemble, which made the recordings, said Elgar had been employed by the asylum at the age of 22.
"He was employed for £32 a year to write music for and conduct the ensemble band, which was made up of the people who were looking after the patients," he said.
"The asylum's physician, Dr Sherlock, was very forward-thinking and introduced music therapy for the patients.
"Many of the pieces are dances the patients would have danced to. Elgar would recycle some of this material in his later works."
The pieces lay undiscovered at the birthplace museum until they were found by conductor Barry Collett.
He recorded them with the ensemble in 2013.
"You can hear all of Elgar's genius is there," added Mr Jenkinson. "Elgar didn't go abroad to study music because his family couldn't afford it, so he learned his craft by conducting the band."