Worcestershire to means-test children in care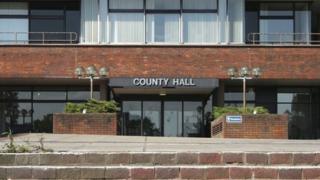 Worcestershire parents who put their children into care will be means-tested to see if they can contribute to costs.
The policy, voted for by Worcestershire County Council on Thursday, has been criticised by the children's charity the NSPCC.
The charity said the move is "not in the best interests of children".
The council, which needs to save £80m by 2017, said it will be rare to ask for care contributions from parents but some "may wish to" contribute.
Conservative councillor Liz Eyre, who is in charge of children's services, said: "If a parent or carer who is perfectly able to look after their children decides they don't want to, is that fair for the tax payer?"
The weekly cost of residential 'care' placement in Worcestershire ranges from £2,739 to £5,105 for each child.
Care within a foster home costs from £300 to £922 each week.
'Put parents off'
Recouping costs is allowed under the Children Act 1989, including some circumstances where young people over the age of 16 could be asked to pay towards their own care.
Mrs Eyre said the cabinet highlighted an example of a family who had been assessed as "very safe" who "would not take their child back again" and chose to keep the child in care.
The authority said there will be no discussion of costs for children classified as vulnerable or at risk, or for any family when social services are first called in.
It will not be able to enforce payments from parents and will make a financial assessment of families before suggesting contributions.
Tom Rahilly, from the NSPCC, said the council "risks putting parents off seeking help".
Labour councillor Patty Hill criticised the plan, adding: "In 30 years I have yet to meet a parent whose children have been taken into care who will be in a position to pay some of the costs."
Worcestershire County Council said there are currently more than 500 children in residential care and foster homes in the county.