Steven Paynter murder case: Stacy Hales jailed for Hereford flat murder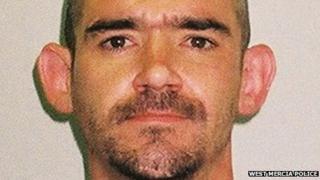 A man has been sentenced to life imprisonment for the murder of a man in Hereford over a £40 debt.
Stacy Hales, 36, from Belmont Road, had denied killing Steven Paynter, 46, in his home on Ryelands Street in August.
But he was jailed for at least 22 years at Worcester Crown Court. Two other men, Stephen Munn and Mark Edwards had pleaded guilty to violent disorder.
Munn, 21, from Golden Post, and Edwards, 23, of Prior Street, Hereford, were jailed for 30 months each.
'Full of rage'
The court heard Hales had gone to Mr Paynter's home because he was owed money for bike parts he had sold to him and a violent struggle broke out.
He was also upset because he had heard Mr Paynter had formed a relationship with his ex-girlfriend.
Robin Allen, from West Midlands Crown Prosecution Service, said: "Stacy Hales was full of rage. He, along with Stephen Munn and Mark Edward, tracked down the victim with the intent of causing him some degree of harm.
"Hales confronted the victim which soon resulted in a physical altercation which ultimately led to the brutal murder of Steven Paynter.
"These defendants all played a part in what was a truly horrific crime."
Hales' former partner, Kim Horry, 20, from Copse Cross Street, Ross-on-Wye, was cleared of a charge of assisting an offender.
Det Insp Dave Williams, from West Mercia Police, said: "I find it very sad that Hales' moment of madness over relatively trivial matters has led to Steven Paynter's murder and he has been cruelly taken away from his family, including his two children.
"Our thoughts are with them at this very distressing time."
In a statement, Mr Paynter's family said: "As a family we are delighted that justice has been seen to be done today.
"Steven's death has come as a shock and has devastated his family and friends; this is something we will never recover from."