Thomas Vale Construction fined over woman hit by fence in high wind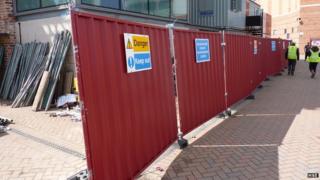 A building contractor has been fined after a woman suffered "life-changing" head injuries when she was hit by a fence that collapsed in the wind.
Thomas Vale Construction was repairing the Birmingham Metropolitan College building in Kidderminster in May 2012.
A woman, 56, was knocked unconscious by hoardings which blew over at the site.
Magistrates in Kidderminster fined the firm £20,000 after it pleaded guilty to a breach of building regulations. It will also pay costs of £10,250.
'Guesswork used'
The Health and Safety Executive (HSE) said the woman suffered "life-changing" head injuries and fluid and bruising on the brain.
It said the injuries also affected her balance and senses of hearing, smell and taste.
HSE inspector Jo Anderson said the fencing put up by the company, based in Stourport, Worcestershire, was constructed "using guesswork".
"The company failed to seek expert advice in order to ensure the hoarding was designed correctly and did not consider the substantial force which strong wind can impart on solid hoardings.
"This woman, who had parked and was on her way to the shops, suffered life-changing head injuries in what was a preventable incident...we could easily have been dealing with a fatal incident."