WW1 soldier's family members see his face for the first time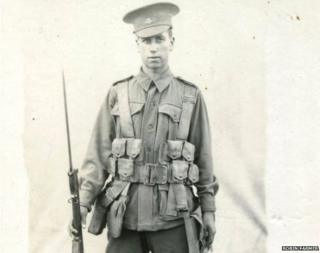 Descendents of an Australian soldier who died in World War One have seen his face for the first time.
Eric Pheysey was the subject of a war centenary project at King Charles I School in Kidderminster.
His family showed pupils letters and photographs connected to Eric, which was the first time all the documents had been gathered in the same place.
Some relatives had never seen a picture of Eric, and were able to see his features for the first time.
The children had been recording a piece about a field trip they took to the battlefields of France, which was broadcast on BBC Hereford and Worcester.
Members of Eric's family heard about it and then approached the school.
Letters to and from the soldier were read at a remembrance service on Monday for Eric, who was a pupil before emigrating to Australia in 1914 to become a farmer.
Robin Farmer, whose mother was Eric's cousin, owns a photograph album which belonged to him, containing pictures both taken of and taken by the soldier.
School governor Pat Yarnold said it was a great honour to meet Eric's relatives: "He was a special character and his letters and pictures gave a deep understanding to the students which they wouldn't ordinarily have."
Year 9 pupil Lauren, who read one of the archive letters to the group, said: "Normally with history it's reading textbooks and learning about something that happened ages ago.
"But coming here today like this, you realise it's something which is a part of people's lives."
By October 1914 Eric had enrolled in the Australian Infantry and was training with the Expeditionary Force.
As a member of 11th Battalion 3rd brigade, he was sent to Egypt to fight against the Turks where he was shot in the legs and brought to London for treatment.
In March 1916, Eric was sent to France and four months later was killed in the battle of Pozieres on the Somme.
BBC Hereford and Worcester journalist, Nicola Goodwin, who worked with the pupils on their project, said: "It was an amazing experience.
"All the family had at least one thing related to Eric, but they'd never put them together before.
"Everything grew from doing a school project about just one name on a war memorial.
"And all this information about Eric came out."