Blind victim of knife attack 'petrified' to leave home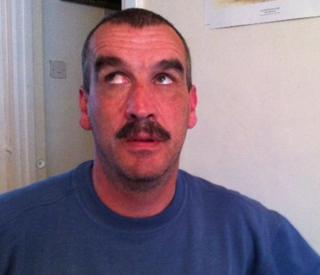 A blind man who fought off two knife attackers said he was "petrified" of leaving his home.
Andy Muxlow, was followed from a cash machine in Malvern, Worcestershire, by the men, who tried to rob him.
Mr Muxlow, 44, said he kicked and punched them, and could not remember how he managed to get home.
"I felt the knife against my chest and throat. It was between 6in and 8in long, and I lashed out. They thought I was an easy target," he said.
He said he heard the muggers walking behind him before they pushed in front of him and threatened him with the knife, demanding money.
'Afraid of running'
A West Mercia Police spokeswoman said: "It is believed the offenders may have been watching as he withdrew some money from a cash machine opposite the Barnards Green Loco shop.
"Mr Muxlow was unable to run because he was afraid of colliding with something."
Although uninjured in the attack on 28 March, Mr Muxlow was extremely shocked and was treated by an ambulance crew after having a panic attack after arriving home.
His wife, Caroline, said she had never seen him in such a state.
"As soon as I was on the phone to the police he went down on all fours. It was hitting him what had happened," she said.
Mr Muxlow said the men had threatened him, saying they knew where he lived.
"I'm petrified of going out on my own now. I don't want to be by myself in the house, either," he said.