Midland Parking Contracts clamp victims to be reimbursed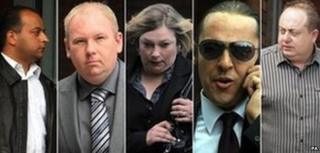 Victims of a clamping firm who were threatened into handing over hundreds of pounds will get most of their money back.
Six staff at Midland Parking Contracts were jailed in February 2012 for conspiracy to defraud.
A three-year investigation by West Mercia Police recovered £121,262 of the profit made by the company.
It will be shared between 480 victims who paid up to £335 to unclamp vehicles and pay for tow-trucks.
'Held to account'
West Mercia Police said people should receive 82 per cent of their total loss.
Adrian Pledger from Droitwich, Worcestershire, was forced to pay £300 after being clamped in Worcester.
He said he had found the experience unsettling as his wife and two-year-old son had to wait in the car while he went to a cash machine.
"It's important [Midland Parking Contracts] has been held to account with not just a custodial sentence but by having to stump up the cash too," he said.
He added: "I'm glad it will hit them in the pocket."
The company operated in Redditch, Nuneaton, Evesham, Worcester, Coventry, Bromsgrove, and Cheltenham.
Six jailed
Charges were brought after a joint investigation by West Mercia Police and Worcestershire's trading standards department following hundreds of complaints from members of the public.
Mark Bancroft, a police financial investigator, said: "Once criminal proceedings are finished, wherever possible, the force financial investigators will always strive to retrieve the proceeds of crime to reimburse those who have been taken advantage of."
Andrew Minshull, 40, of Hatfield Close, Redditch was sentenced to 32 months, for conspiracy to defraud, with his partner Debbie Worton, 45, from the same address, jailed for a year.
Simon Barry, 40, of Lilac Close, Evesham, Faisal Qadeer, 37, of Mount Pleasant, Redditch, Christopher Cartwright, 31, of Salisbury Drive, Kidderminster, and Lloyd Isherwood, 39, of Groveley Lane, Birmingham, were sentenced to between 15 and 21 months each.