Worcester Cathedral displays headless pilgrim's boots and staff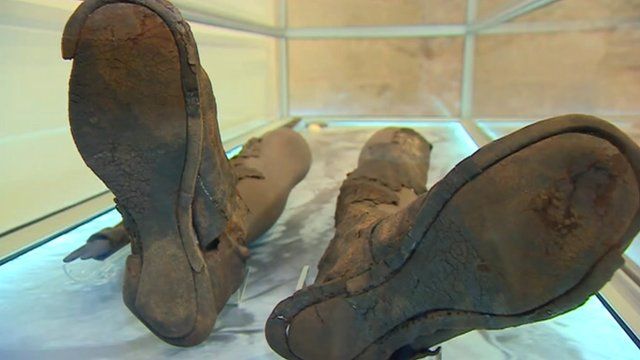 The boots and staff of a 15th Century pilgrim unearthed at Worcester Cathedral have been restored and form part of a new display.
The man, buried wearing leather boots and laid to rest next to his staff and cockleshell badge, is likely to have been Robert Sutton, said Dr Dee Dyas, from the University of York.
Sutton was a wealthy Worcester city dyer and devotee of St James.
The artefacts are on show in the crypt of the cathedral.
The skeleton was discovered by accident during excavation work in 1986. Earlier building work had disturbed it and the skull was missing.
Fragments of a horn decoration in the shape of a cockleshell, the traditional emblem of St James, were found in the grave, indicating the pilgrim had been to the shrine at Compostela in north-west Spain.
Analysis of the staff revealed it had a covering of expensive purple dye, said Dr Dyas, supporting the theory that the remains are those of Robert Sutton.
"He gave money toward maintaining the ceiling of his parish church," she added.
"He had a boss carved in his honour depicting him as a pilgrim.
"It was important to him that he was portrayed as a pilgrim, and it was important to him he was buried as a pilgrim."
Dean of Worcester, Peter Atkinson, said: "We are delighted to welcome back the Worcester Pilgrim's effects after their conservation. The pilgrim represents an important part of the story here."
The display opens on Tuesday.
Related Internet Links
The BBC is not responsible for the content of external sites.