Auction of Banksy-style Elgar street art originals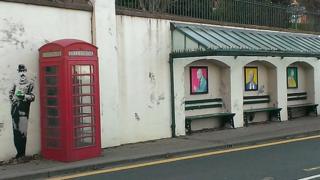 Canvas originals of Banksy-style street art portraying the composer Sir Edward Elgar have been auctioned.
Lee Morris and Tom Brown, from Malvern, spent more than 100 hours creating four images in and adjacent to the town's Rose Bank bus shelter.
They apologised for not seeking approval before the images appeared last month, the town council has said.
Canvasses were auctioned for almost £3,000, which the men said would be donated to arts projects in Malvern.
'Anonymous gift'
Charles Rambridge, from auctioneers Philip Serrell, said the four canvases were all bought by one local man.
The council said the artists had intended the work - done in the style of Bristol-based graffiti artist Banksy - to be an "anonymous gift" to the community.
Asked if the authority might consider allowing similar art elsewhere, a town councillor in the Priory ward, Cynthia Palmer, said: "The two artists consider that the bus shelter where they hung the paintings was a blank canvas.
"We've definitely got other sites around the town, so yes, we are considering it really, because they make a statement and they're just very nice to look at."