Herefordshire budget cuts 'a pain in the grass'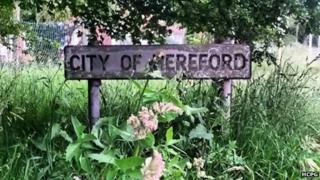 Campaigners say a decision to reduce grass cutting in Herefordshire could be "an economic disaster for Hereford".
Herefordshire Council said it will now cut the county's grass three times a year instead of the previous seven to save £670,000 a year.
A petition signed by more than 2,000 people states untidy grass "discourages potential investors and tourism".
A Facebook group "Hereford Council are a pain in the grass" has received more than 2,500 "likes".
On the group, resident Jon Harrison said long grass took "more man hours to cut" and Sarah Symonds said it could be dangerous at road junctions.
Councillor Paul Rone said: "I absolutely agree with anybody saying, 'I want those services', but I'm afraid to say with the lack of money coming from central government those services are going to be cut... indefinitely"
The council said rural verge trimming and cutting grass that affects road visibility would be unchanged.