Hereford United's new owner agrees talks on finances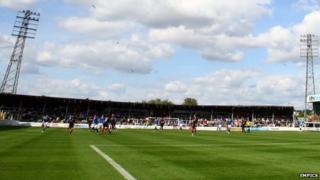 The new owner of Hereford United will attend a meeting with the council on Monday to discuss the club's finances.
The club was expelled from the Football Conference on Tuesday due to its failure to pay its bills.
Herefordshire Council, which owns the club's Edgar Street home, said Tommy Agombar had asked to be given the leases for two stands at the ground.
Mr Agombar has denied suggestions from fans that he might sell the land to developers.
'Robust due diligence'
The Hereford United Supporters Trust is calling on fans to lobby councillors, to prevent the transfer of the club's leases.
Mr Agombar said: "We are aware that supporters are understandably worried that we'll just come into the club, develop the two ends and then disappear, but that's not going to happen."
The council said Hereford United still owed it some £65,000 in rent arrears, business rates and legal fees, and the new owners had promised a written assurance that the money would be repaid.
The meeting on Monday is for the council to seek further assurances.
It said its legal team was looking at the request to transfer the leases to a company owned by the club's new owners and would "go through a process of robust due diligence" before coming to any agreement.
"We remain open to discussions with any potential investors who, like us, wish to see football remain at Edgar Street." the authority said.