Special Olympics Redditch founder honoured in Queen's Birthday Honours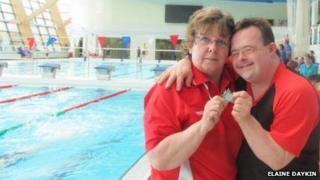 A woman who founded a special needs sports group and raised £250,000 to help it survive has been recognised in the Queen's Birthday Honours list.
Elaine Daykin, 58, who has been awarded the British Empire Medal, started Special Olympics Redditch in 1993.
She said her son, Richard, 34, who has Down's syndrome, was the inspiration for her earlier launching a similar group for Worcestershire in 1987.
Ex-Wyre Forest independent MP Dr Richard Taylor becomes an MBE.
Dr Taylor, from Kidderminster, was recognised for services to the community in Worcestershire, especially to Kidderminster Hospital.
Jean Dalrymple Davidson, 90, is also among those appointed a MBE, for services to the community in Worcester. She has been involved with Dodford Children's Farm since 1969.
'Channel energy'
Malachi Community Trust chief executive officer Gordon John Lee, from Worcestershire, becomes an OBE for services to children.
Mrs Daykin, from Redditch, said she felt "very honoured" to have been awarded the medal for voluntary service to disability sport.
The mother-of-two said her son Richard, who has played several sports over the years, was the reason she started the Worcestershire-wide group in the 1980s.
She added: "He was a very active seven year old... He was big into football.
"(It was) somewhere he could channel his energy into."
Since then Mrs Daykin has raised more than £250,000 in events she has organised to help Special Olympics Redditch, which uses 25 volunteers to help 50 people in weekly training and competitions.
The group's secretary added: "If you put (my) hours together, you might frighten yourself.
"It was a big, big surprise when I got the letter. I kept reading the letter over and over again thinking is that really me?"
Sheenagh Davis, manager at Hope family centre in Bromyard, Herefordshire, who is from the town, is also among those appointed MBE, receiving the honour for services to children and families.