Anger after Hereford United owner cancels fans meeting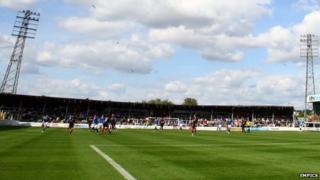 Hereford United supporters were left "extremely disappointed" when the club's owner cancelled a meeting with them.
The club was expelled from the Football Conference last week after failing to pay bills and the fans' forum was due to be held on Monday.
It would have been the first chance for supporters to meet Tommy Agombar and ask questions.
There has been no official explanation for the cancellation.
Herefordshire Council said last week Mr Agombar had asked to be given the leases for the two stands at the club's Edgar Street home and this has worried supporters.
Martin Watson, of the supporters' trust, said: "If he gets this, two of the stands could be demolished. There have been suggestion of houses and a hotel there. "
'Abysmal situation'
Mr Agombar, who took control of the club on 3 June, has denied allegations he intends to sell the land to developers.
The supporters' trust said: "The fans have demanded answers about his running of the club over the past two weeks and, just as we are due to receive some, the opportunity is snatched away."
Another fans group, the Independent Supporters' Association, also expressed concern.
Its chairman, Keith Dodd, said he had hoped for a "clear-the-air meeting" with Mr Agombar.
"At least we'd know where we are and ask the searching questions we'd all want to ask, now I don't know when we'll get the chance," he added.
Hereford have been cleared to play in the Southern League Premier Division next season and on Friday the league said it would accept the club, as long as it met a number of conditions.