Alexandra Hospital: Neonatal services could go to Worcester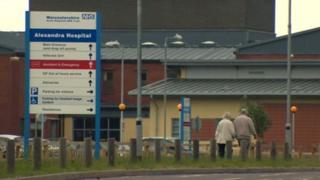 A staffing shortage could mean some neonatal services move from the Alexandra to the Worcestershire Royal Hospital.
Worcestershire Acute Hospitals NHS Trust is "increasingly concerned" about running safe neonatal services for the smallest, sickest babies.
Staffing rotas are "fragile", it said.
All women across the county who go into labour between 28 and 37 weeks pregnant could be treated at Worcestershire Royal.
Currently, expectant mothers in Redditch who go into labour between 34 and 40 weeks can still be treated at the Alexandra Hospital.
National shortage
All multiple births and high risk pregnancies could also be booked in at Worcestershire Royal Hospital.
The combination of retirements, maternity leave and an inability to recruit specialist neonatal nurses has led to staffing problems, the trust said.
A national shortage of specialist neonatal nurses had also contributed, the trust added.
Trust chiefs say they are not making changes now, but it is "a possibility" if the staff shortage persists.
A spokeswoman said: "If it happens it will be on patient safety grounds and on a temporary basis only until the neonatal nurse staffing problems are resolved."
Neal Stote, from Save the Alex campaign, said: "I understand and agree that patient safety must come first, but I do not believe for one second that all has been done to solve this staffing crisis."
To help maintain nursing rotas, the trust is using other neonatal staff and a specialist temporary staffing agency to find long-term agency nurses to cover shifts.
Extra training is being given to nursing and medical staff and an open day is being held to aid recruitment on 10 July.
Women less than 28 weeks' pregnant in the area are still treated at Birmingham Women's Hospital.