Channel crossing in folding canoe from Herefordshire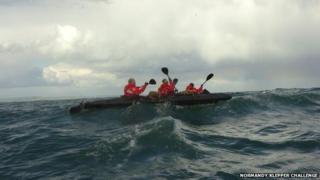 Three former soldiers have crossed the English Channel in a folding canoe.
The Herefordshire men navigated from Portland Bay in Dorset to Arromanches to follow the journey made by World War Two troops in the D-Day landings.
A larger team tried the same journey two weeks ago, but endured horrendous sea conditions ending with two lost canoes and four men in the sea, said organiser Stuart Gilks.
The second group started out on Wednesday and reached France on Friday.
Formerly a soldier with the Parachute Regiment, Mr Gilks from Hereford, came up with the idea of trying to paddle the 200km (124 miles) in 40 hours.
He said the team planned well for two nights without sleep and for "the weather".
The canoe used was a Klepper Aerius II, a collapsible canoe made from a canvas and rubber hull and deck, stretched over an assembled wooden frame.
"The inspiration for this whole event was born out of the desire to pay respect and commemorate those guys who left the shores of England 70 years ago," Mr Gilks said.
The team is raising money for military charities, the Cystic Fibrosis Trust and the Special Care Baby Unit at Hereford Hospital.
Mr Gilks' son spent three months at the baby care unit when he was born prematurely.