Herefordshire Council keeps £46,300 of car park change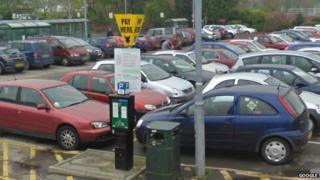 A council made more than £46,300 in a year by not giving change to motorists in its car parks.
A Freedom of Information request showed Herefordshire Council made the money between April 2013 and February 2014 as drivers "overpaid" at its machines.
It claimed replacing the machines with ones that give change would be impractical and cost too much.
The council said the income from car parks was a "really important part" of revenue for its wider spending.
Herefordshire councillor Paul Roan stated: "We're talking about almost a million transactions per year... we have 60 pay machines across the whole county and to replace all those would be an awful lot of money."
In total, with car park charges and overpayments, in 2009-10 the council made £800,000. This had increased to £1.56m in 2012-13.
Another Freedom of Information request, in March, showed Cornwall Council made more than £300,000 in overpaid car parking fees.
Philip Gomm, from the RAC Foundation, said: "This is effectively drivers being penalised when they're trying to do the right thing.
"I think it's wrong that councils should be able to hold on to so much money."
Herefordshire Council started a phone payment system in January 2013, whereby drivers could pay for parking via their mobile phones instead of using cash, with a typical additional charge of between 20 and 40p.