Droitwich Lido Park playground closed by suspected arson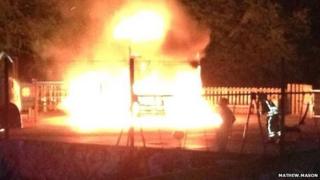 A suspected arson attack in a playground in Droitwich has caused damage costing about £11,000.
The fire at the Spa Lido Park was reported at about 22:30 BST on Wednesday.
The playground has been fenced off while police investigate the fire, which was reported by two skaters.
A Wychavon District Council spokesperson said: "We are deeply saddened by this fire. Fortunately no-one was hurt."
He added: "The remainder of the lido park is open to the public, as is the lido pool and café."
A representative from Droitwich Spa Cricket Club said it would be "no surprise" to discover the fire was deliberate.
"In the last week we have had wooden benches snapped, tyres on our pitch, covers slashed, piles of rubbish everywhere," he said.
The council, he said, was "brilliant at clearing up every day, but shouldn't have to do it".
It is not yet known when the play area will be able to reopen.