Last-minute bid to save historic Redditch needle factory from demolition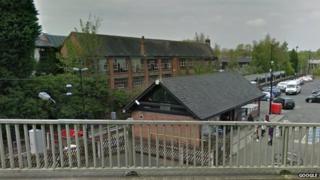 Campaigners have launched a last-minute bid to save a historic Redditch needle factory from demolition.
Point in Time, which wants to turn the derelict Abel Morral site into a museum and arts centre, needs to raise £1m by Monday.
The site is scheduled for destruction on Monday, to coincide with closures of the neighbouring rail line.
Its current owners said it was no longer financially viable to continue paying for security and maintenance.
'Lost forever'
Lead campaigner Sharon Burton-Fletcher said Point in Time had received backing from the Heritage Lottery Fund, but needs more donors to come forward.
She said the Abel Morral building, which still contains original needle-making equipment, represented an important part of the town's history.
"We have only days to act before the bulldozers move in," she said.
"Once that happens there is no return, and this exciting opportunity to make a positive contribution to both the local and wider community will be lost forever."
Abel Morall was taken over in 1984 when it was amalgamated with a Glasgow firm.