Ross-on-Wye Neknominate fish-swallow man is spared jail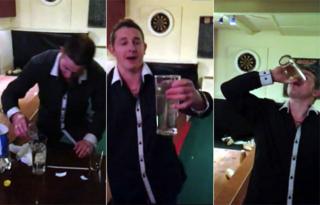 A man who swallowed four fish as part of the Neknominate drinking game has walked free from court after being charged with animal cruelty.
Paul Wooding, 33, a binman, from Ross-on-Wye, Herefordshire, admitted cruelty in swallowing the minnows.
He was given an 18-month conditional discharge and ordered to pay costs of £500.
A vet told Hereford Magistrates' Court "the fish would have been caused pain, based on the video evidence".
Neknominate involves people filming themselves downing alcohol and then challenging someone else to do the same.
The maximum penalty Wooding could have received was six months' imprisonment.
Wooding, from Brampton Avenue in the town, was given a second conditional discharge, to run concurrently, for failing to protect the fish.
The RSPCA brought the prosecution after Wooding posted footage of his activities on Facebook.
In response, Wooding wrote "some people's lives must be that sad and boring, to get any excitement they have to report me to the RSPCA".
He took the fish from a friend's tank and put them into a pint glass of wine, gin, vodka, rum and lemonade before swallowing them.
Wooding said he had drunk about eight pints and six double gins, before downing the cocktail at the Golf Inn in Ross-on-Wye.
Neknomination is a drinking game on social media believed to have started in Australia
The concept of the game has been described as "neck your drink, nominate another"
Facebook and Twitter users who receive a "Neknomination" are challenged to down a drink in one go, within 24 hours
They post a video of themselves completing the challenge and nominate friends to do the same
Neknominees who refuse and break the chain are subject to online ridicule
In mitigation, Chris Morgan said: "Yes, those fish may have experienced pain and then died, but they are small fish, nothing more."
He said his client did not know drinking the fish was illegal, and while he was "stupid, irresponsible and ashamed" he had already suffered having been exposed to public ridicule and the press spotlight.
RSPCA inspector Mark Lewis said: "There was a deliberate decision to take these fish and swallow them as part of this irresponsible game.
"The fish suffered unnecessarily and it is simply not acceptable to treat an animal in this way purely for amusement."
Wooding was also ordered to pay a £15 victim surcharge.