Worcester Angel Place market revamp leaves traders homeless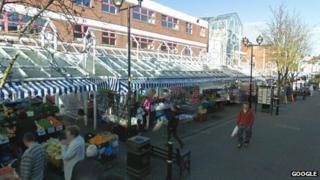 Market traders have said their businesses could be forced to close as Worcester City Council failed to find an alternative site during a revamp.
Work was due to start on a £555,000 refurbishment of Worcester's Angel Place market on 1 September.
The council had said it would find a new home during the three-month work.
But in a letter to traders on Tuesday the council said it had failed to find a temporary site, prompting some traders to claim they were "misled".
Treated 'shabbily'
Duncan Squires, who runs a flower stall at the market with his wife, said: "We're all shocked. We've known about the redevelopment, and we fully support it, but we've always been told they'll find us a temporary home."
Like a number of traders, Mr Squires said the stall was his only income.
"Unless I find somewhere else to work, I'll have to finish it," he said.
Worcester City Council said it had put the redevelopment back to 9 September to allow traders more time.
Dave Grubb, who runs a butchers, said traders had been treated "shabbily" and that he would have to lose at least two staff.
"It's not easy to find somewhere new with just three weeks' notice."
David Blake, economic development and planning policy manager, said the council had hoped to accommodate traders in the Crown Gate shopping centre, but that was not possible.
He said another site identified at Queen Street was considered not financially viable by market operators.
"We have looked at other options but have not been able to identify another site that would be satisfactory to all parties."
Mr Blake said the council would consider any applications from traders for individual sites and that the refurbished market would reopen at the beginning of December.