George Henry Wyatt: Street memorial for WW1 VC winner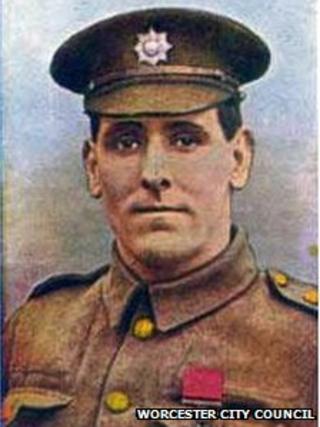 A memorial paving slab has been unveiled in Worcester for a Victoria Cross (VC) winner from World War 1.
George Henry Wyatt, who was a Lance Corporal in the Coldstream Guards, won the medal in August 1914 after he twice left the trenches to put out a fire.
The commemorative paving stone, which has been laid outside The Guildhall, is part of a national project to recognise VC winners from WW1.
Mr Wyatt survived the war and became a policeman in Doncaster.
Representatives from the Royal British Legion and the Coldstream Guards were present at the ceremony to unveil the memorial.
Mr Wyatt was born on September 5, 1896, in Britannia Row, Worcester.
He was already a soldier at the outbreak of WW1 and left for France on 14 August 1914 as part of the British Expeditionary Force.
During fighting at Landrecies on 25 and 26 August, he twice tackled fires in farm buildings which were set alight by heavy fire from German troops.