Stuck cat rescued from 30ft Hollywood electricity pole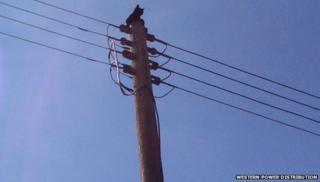 A cat had to be rescued by firefighters after it got stuck on top of a 30ft-high electricity pole in Birmingham.
The black moggy was spotted in difficulty in Dark Lane in the Hollywood area just after 10:00 BST.
Western Power Distribution officials isolated the power supply so firefighters could use ladders to climb the pole and retrieve the pet safely.
The operator said the unharmed cat was returned to its owner. It is not clear how long it had been there.