Hereford United winding-up order adjourned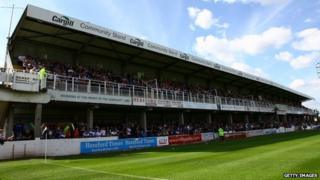 Hereford United has been given an additional 42 days to pay off debts after a petition for a winding-up order was adjourned in the High Court.
The club was expelled from the Football Conference three months ago after failing to pay creditors.
A settlement has now been reached with the main claimant, the High Court was told.
HM Revenue and Customs (HMRC), which is still owed £116,000 by the club, is now pursuing the petition alone.
HMRC had originally brought the petition alongside Hereford's former manager Martin Foyle and his assistant Andy Porter.
Other creditors were also represented at the High Court hearing.
'Painful situation'
Monday's decision is believed to be the seventh time the petition has been adjourned by the High Court.
The club met creditors last month but plans for a Company Voluntary Arrangement were rejected by HMRC.
Hereford United are 21st in the Southern Premier League, having won just one of their first eight games of the season.
Martin Watson, vice-chairman of the supporters trust, said: "It's a very painful situation and the longer it goes on, the worse it's going to be."
He said fans were desperate for more information about what was going on behind the scenes.
Chairman Andy Lonsdale said the club would be "reducing overheads" as the level they were at last season "could not be sustained".
In a statement on the Hereford United website he said they faced "an ongoing battle" to attract sponsors when there was a winding-up petition "hanging over the club".