Malvern schoolboy on run after teacher and pupil attack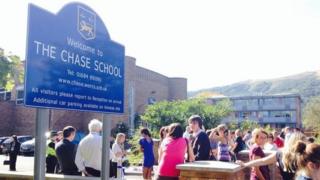 A schoolboy is on the run after a teacher and a 13-year-old girl were attacked at a school in Malvern, Worcestershire.
The pair suffered minor injuries in the attack at Chase Technology College at about 08:45 BST.
Officers said they believed the weapon was a "long-bladed knife".
West Mercia Police said officers were searching for a 13-year-old boy and that he should not be approached.
The boy is described as white, about 5ft 3in (1.6m) tall, with short spiky hair and glasses.
He was last seen wearing dark grey trousers, a grey hooded jumper and may have a dark scarf covering his face. He was also carrying a dark rucksack.
Officers said they were concerned about the boy's welfare.
A police helicopter has been helping in the search, which is focused on "specific areas of the Malverns [Malvern Hills]".
---
At the scene: Jerry Chester, BBC News Online
There are police officers stationed at each entrance to the school and crime scene tape blocking off the main entrance.
Children are being brought out individually from the school and handed to parents waiting at the gates. About 100 had gathered by lunchtime.
A school spokesman told them: "There is absolutely no threat or danger to your children. There is no need for you to take your children out of school.
"We will be running classes as normal until the end of the school day. If you want to take your child out early we quite understand but you will have to be patient."
---
'Under control'
Pupils were locked in their classrooms for about 45 minutes, according to one sixth former.
Head teacher Richard Jacobs said the teacher and girl received minor injuries and were treated on site.
At lunchtime, a crowd of parents gathered outside the school, which has about 1,500 pupils, many of them asking to pick up their children.
One parent, who did not want to be named, said: "My daughter texted me to say there'd been an incident with a pupil and a knife and could I come and pick her up.
"I think the school have handled it very well - they put something up on the school website really quickly."
Chase Technology College earlier released a statement on its website saying that pupils were safe and that parents "should not be alarmed by the presence of police at the site".
They said the situation was "fully under control".