Counsellor call at attack school in Malvern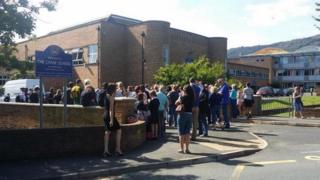 Parents at a school where a 13-year-old boy allegedly attacked a teacher and fellow pupil with a knife have called for the school's "redundant" counsellor to be reinstated.
More than 120 people have signed an online petition calling for the Chase Technology College in Malvern, Worcestershire, to reinstate its counsellor to support students, with some saying Monday's incident could have been avoided.
Petitioners called for Sam Morris, a child and young person's psychotherapist who worked at the school for six years, to be reinstated.
One petitioner wrote: "Sam Morris is one of the key foundations to the Chase.
"Without her help and support many children and young adults will be left to suffer the hard turmoils, no matter how small or big, that life so unfairly hands out."
The BBC has attempted to contact Ms Morris and Chase Technology College for a response. On its website, the school said it would be open on Tuesday and that "support is available at the school to support anybody that has been affected" by the incident.
A male teacher and 13-year-old girl suffered minor injuries during the incident. A boy has been charged with 13 offences, including one count of causing grievous bodily harm, one count of causing actual bodily harm and threatening a person with a knife.
'Odd decision'
One parent, Tyler Massey, said his daughter had been "concerned" when Ms Morris and the school nurse were made redundant last year.
"We thought it was a really odd and strange decision," he said.
He said he understood the job losses followed cuts made in the last budget, but did not remember receiving a letter about it.
Mr Massey, a private music teacher, said other parents had also raised concerns about the situation. He said a counsellor and nurse were "absolutely essential" positions at a school as large as the Chase, which has nearly 1,600 pupils.
"You don't have to be a rocket scientist to see this child would have benefited from counselling and to have a counsellor on hand," he said.
"And if the situation had been more serious you would need a nurse as well. And neither were available."
Mr Massey added: "There are always going to be children who need extra help and understanding. I hope they can reinstate the nurse and counsellor. Surely there are alternative ways to save money?"
A mother who did not want to be named said Ms Morris had helped her daughter, a former pupil, and the rest of her family "through a trauma".
"I've never known anyone so devoted to their job and to the kids," she said.
Former pupils are among those who have signed the new petition calling for Ms Morris's return and praising her "wonderful work".